As we are all aware at this point, voice recognition technology is continuing to get better and better, in fact, it is now believed to be 95% accurate. As users, we're adapting to this new voice revolution rather quickly (almost 1/4 of mobile search queries are voice search), yet marketers and SEO specialists seem to be lagging behind a bit when it comes to optimizing for this new way to search.
If you're in the marketing world, it's time you start paying attention to voice search optimization to help you show up in search results via this method.
While optimizing for voice search requires slightly different tactics than the search engine optimization techniques we're used to, they can benefit your website as a whole, regardless of how a person is searching for you, so implementing these best practices is really a win-win.
Aim for the Featured Snippet
Position zero, or Google's featured snippet, is now the most coveted spot in search engine results pages for many reasons, but becoming the top result for voice search is now one of them.
A featured snippet is meant to be a quick answer to a question (as shown in the screenshot below), which is typically what people are looking for when they are using voice search.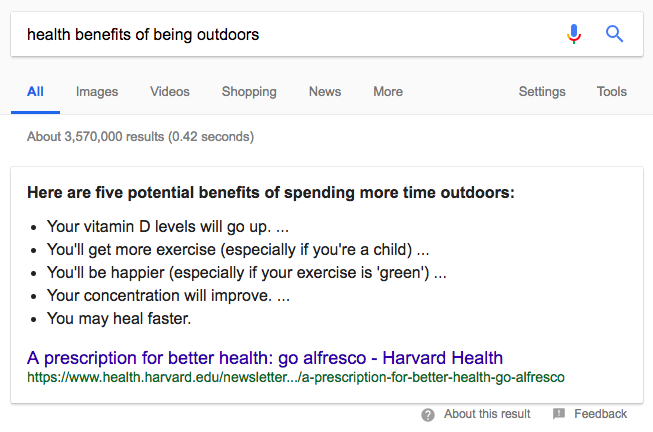 If you are able to land this spot in results pages, you'll be more likely to be the result found in voice search results. According to a survey by Backlinko, 40.7% of all voice search answers came from a Featured Snippet.
With the featured snippet, simple answers (such as asking a celebrity's age) are answered directly as they are facts. For more expert/opinion-based posts, search engines will pull content from websites they think are the best fit to answer the question.
Helpful tips to get to that desired spot include:
Knowing and addressing your audience's intent
Doing your keyword research
Creating high-quality content that answers questions
Implementing SEO best practices
Focusing on easy-to-follow formatting
At the end of the day, aiming for the Featured Snippet should be a top priority regardless of how people search, but it can really give you an extra boost with voice search.
Optimize for certain types of keywords
As most people in the marketing world know, when it comes to SEO, keywords are, well, key. They are at the core of your content strategy and help you identify and respond to audience intent.
When it comes to voice search, you need to think about keywords and SEO a bit differently as these search queries tend to be a bit longer than type-based search. Because of this, you really need to put an emphasis on long-tail keywords.
Additionally, when people use voice search, they're typically more conversational than when they type terms into a search box. Be sure to create content around conversational phrases. Having an FAQ page on a site or Q&A related blog posts can be easy for search engines to pull from since questions typically come across as being more conversational. I like using Answer the Public to find questions related to search terms I'm trying to rank for. I definitely encourage you to check it out!
When it comes to SEO, I don't really condone shortcuts as SEO should be looked at as a marathon, not a sprint, however, research is showing that there are some common trigger words that may help with voice search that you could add to your target keyword phrases to help you get found through voice search. These terms include, but are not limited to:
Buy
Get
Find
Top rated
Closest
Granted, don't include these in all of your content, but you may want to consider sprinkling them in here and there.
Understand schema markup
If you're asking yourself what schema markup is, I highly recommend starting your research (and don't be deterred by code, this is important stuff!). Not only does it bode well for search optimization in general, it may also be one of the most important factors to ranking for voice search.
In a nutshell, schema markup helps search engines understand the content on a page. By including it on your website, you make it very clear what that page is all about, making it easy for search engines to scan.
Invest in mobile optimization
For SEO in general right now, it is imperative that your website is mobile-friendly. Google primarily cares about user experience and are now pulling the experience on mobile devices over a desktop for SEO. I'd recommend moving to a responsive design and ensuring mobile site speed is quick to avoid penalty.
Since so many voice searches are done via mobile device it's essential you are optimized to help get found in mobile results.
Focus on content
While this may seem like a no-brainer at this point in the SEO game, there are a few specific tips that you should pay attention to specifically when it comes to voice search:
Ensure your content is simple and easy to read
Aim to write long-form content (roughly 2,000 words) as that's typically what Google pulls from for voice search
Answer your audience's questions and solve their problems with your content
Write/speak naturally in your content (this goes back to people using conversational phrases when using voice search)
Share your content on social media regularly, as those tend to perform better with voice search
Stick with SEO basics
Lastly, don't forget about the basics of SEO. The more you follow those best practices, the more Google will reward you. Just because there are new aspects to consider doesn't mean you should forget about the existing elements.
Be sure to optimize on-page elements with relevant keywords including URL, page title, header tags, alt text, meta description, and within the copy itself.
Build a backlink and review strategy.
Ensure your site is secure.
Focus on page speed (according to Backlinko, the average voice search result page loads in 4.6 seconds (52% faster than the average page).
I say this all the time but it never seems to be enough: build out your total online presence. Create the best user experience you can and you'll see the benefits roll in.
Need more tips on search engine optimization? Check out our entire Guide to SEO.