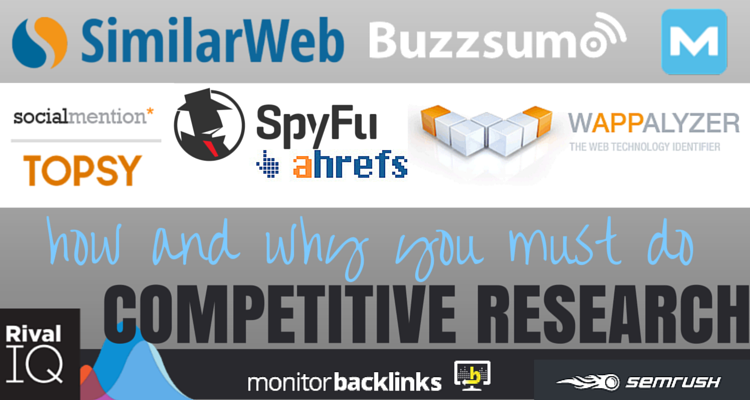 The term competitive research often conjures up notions of spying and espionage, but the fact is, you must commit to ongoing competitive research as a way to grow and evolve.
When I talk about the concept of competitive research as a core practice, I sometimes encounter some pushback from business owners. The reality is many people can't identify direct competitors in part because they aren't paying attention.
Competitors come in all shapes and sizes and, in some cases, aren't in your town or even in your industry.
You see, when it comes to digital competition a core competitor might not be someone who gets the job you just bid on, it might just as likely be a business you've never heard of that ranks well for the type of terms you need to rank for. Or, it might be an advertiser that does such a great job with the relevance of their ads that they are forcing your ad bids higher than they should be.
If you think of competitive research not simply as a way to get one up on a competitor, but as a way to grow and learn and discover, you might make it a priority.
For me ongoing competitive research contains a few of the following benefits:
It helps you learn new ways to serve your customers
It helps you understand why other sites are ranking higher than yours
It allows you to use data to spot new opportunities
It helps you seize opportunities to gain customers
It gives you a roadmap for finding link building potential
It helps you spot mentions of your brand for relationship building
It shows you the exact content you need to be producing
It unlocks new tools and practices for serving your clients
The key to consistent competitive research is to equip yourself with both a routine for conducting it and a set of tools that make it easy for you to do – sometimes even on the fly.
Below you'll find the four primary categories of competitive research along with a few of my favorite tools for setting up and conducting your competitive research plan.
Alerts
The ability to receive an email alert when any company, brand,  or person is mentioned online had made it very simple to keep up on your mentions and opportunities as well as mentions of a competitor. I get a daily digest of mentions and quite often find ways to engage sites that are doing the mentioning.
As a competitive research play, you can set up relevant alerts and know when a competitor makes an announcement or what someone points out an opportunity related to a competitor
BuzzSumo – is one of my favorite tools for a number of things and currently my favorite for alerts.
BrandMention – is a search engine with real-time emphasis and can turn up some gems not found by BuzzSumo.
Online Advertising
To get the biggest bang for your online ad spend you have to target the right keywords with the right message. Using tools that help you understand what keywords and messages are the most profitable, is a great way to maximize your online ad budget.
SpyFu – is a competitor analysis tool that helps you research and download your competitors' most profitable keywords.
AdEspresso – this is actually a Facebook Ad tool, but they have a searchable Ad Examples section that can help you find ads that are performing well on Facebook
Content
Content research is an awesome habit to get into! It helps you build a plan for your content that is based on reaching certain traffic objectives. One of the easiest ways to find content ideas is to understand what content is already ranking for search terms you covet and then find out why.
BuzzSumo – shows you the most shared content from any site (your competitors perhaps) or for any search term. It also reveals who shared the content making it a useful tool for both identifying ideas and influencers.
SEMRush – is one of the most versatile tools for keyword research and competitive rankings
SEO
If one of your goals is to figure out how to get more organic search traffic, then you'll benefit from understanding how sites that rank above you are doing so. If you can understand how a page that ranks is optimized and what other sites of authority link to a site then you can stand a chance of matching them for your important keywords. Sure, you'll still have to work at it, but at least you'll have the roadmap.
Monitor Backlinks – is a great tool for monitoring your backlinks – and something called negative SEO – and it's a great way for you to zero in on the links that other competitive sites are acquiring. In many cases, there's a chance that you can go after the same links, particularly if the link comes from a site in your industry.
Ahrefs – is another useful tool for monitoring backlinks and claims to use their own database so you'll likely find some links that don't show up in other places.
All-in-one
There are some all-in-one type of solutions as well. One that we love to use is called RivalIQ. This is a great tool if you have a need to show clients a competitive landscape. And, of course, MOZ Pro and Raven Tools are great all in one tool with some nice local tools.
Google Operators
I love Google Operators as another handy search power tool. There are many useful ways to refine your search through operators, but the following three are the ones I use the most.
site: Get results from certain sites or domains. – Find content on a specific site
info: Get information about a web address, including the cached version of the page, similar pages, and pages that link to the site.
filetype: Add this + doc or pdf and find only content in Word docs or PDFs. Great for finding ebooks and checklists related to a topic
Chrome Extensions
Finally, while many of these tools are great when doing research intentional, there are some great Chrome Extensions that keep competitive research front and center as you surf. When you add any of these tools to your browser you can get quick competitive data for every page you visit. Here are my favorites.