Leads, leads, leads. Everybody wants them and once you have a few, you will want more. When you do get more, you will want better quality ones. It's all part of doing business.
When we surveyed small business owners  earlier this year, 45% of them said their biggest challenge is growing revenue; the very thing lead generation is for.
While everybody wants more leads, getting them is another matter. Lead generation is an entire specialty unto itself. There are plenty of ways to go about it. Some are more successful than others and some are definitely more expensive.
Most experienced salesmen like the proven ways. The lead generation tactics that don't cost an arm and a leg don't require a degree and don't need a staff of ten. Like humble, boring, effective old email.
Email usually makes the short list of tactics for lead generation, but Ascend2 recently reminded all of us how essential it really is. Email came in as the #1 most effective online tactics for lead generation in Ascend2's just-published report, Lead Generation Strategy Trends.
If you want to try out the #1 technique for lead gen, or if you just want some new ideas for how to do your email lead gen better, keep reading. These are some of the best tactics around:
1) Offer an email newsletter with high-value, relevant content.
If you want to do any kind of lead generation with email, you need peoples' email addresses first. Many businesses don't collect email addresses anywhere on their site.
2) Set up triggered emails
Triggered emails (sometimes called "autoresponders" or "drip campaigns") are automatically activated when someone takes a specific action. That could be downloading a whitepaper, filling out a contact form, or placing an order.
When the trigger of events happens, your email marketing system automatically sends out a series of emails. The emails have content tailored to the sort of person who would take that particular action. This basically lets you automate your follow-ups. It's lead nurturing on autopilot.
3) Segment emails according to subscriber behaviors.
Segmenting makes your emails more relevant to your readers. Relevant email messages, emails that have content subscribers are actually interested in; get more opens, clicks, and sales.
There are dozens of behaviors to segment by. Like these:
When subscribers signed up
Which links subscribers clicked in an email
If someone clicked through on an email but didn't convert on the landing page
No behavior… then resend an email to people who didn't open it the first time (just change the subject line).
4) Gate your content.
This is the oldest lead generation technique. It goes all the way back to before the Internet when magazines published ads urging readers to write for a free report or to request a product sample. That was lead gen via postal mail.
Now a common setup for gated content is to drive traffic to a landing page (aka a "squeeze page") and have people enter their information in exchange for a free report. Or you can offer valuable content on your website and require the email address there.
There are pros and cons to gating content. Check out Hubspot's flowchart, "Should I Gate This Content?" for some ideas when and when not to gate.
5) Make your emails shareable.
People still forward emails to their friends, family, and colleagues, especially if you make it easy for them.
There are several ways to do this:
Just ask them to forward the email in your copy.
Add a button that automatically formats an email for them.
Embed pre-formatted tweets in your email for sharing.
Add a signup link so people who get the forwarded emails can sign up easily.
Add social sharing buttons so people can share your email on their social media accounts.
What's your favorite way to generate leads with email marketing? Tell us about it in the comments.
If you liked this post, check out our Guide to Customer Relationship Management and our Small Business Guide to Email Marketing.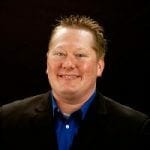 Brian Sutter serves as Wasp Barcode Technologies' director of marketing, where he sets the strategic direction and oversees the tactical execution of the company's marketing program.