Referral marketing, also known as word-of-mouth marketing, is one of the oldest (and still most effective!) marketing strategies out there. It's basically about people buying your products and services because somebody they trust recommends it to them.
Word-of-mouth is a subtle process that is present everywhere in our daily lives. The reason for which a lot of small businesses are not considering it more is because of the simple fact that it's not that visible like a TV commercial for example (I like to call this the "Super Bowl effect").
Nevertheless, study after study, word of mouth always shows up like the most powerful form of promoting your business. Just look at the numbers below, from a study performed by the Nielsen Company (a leading global provider of information and insights into what consumers watch and buy).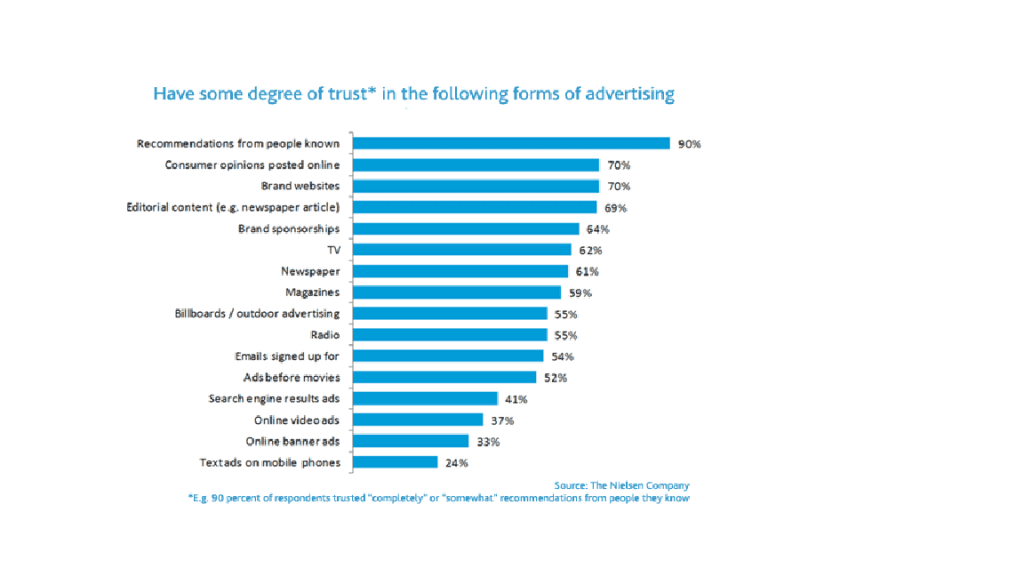 Basically, the graph shows that 90% of consumers around the world say they trust word-of-mouth from their friends and family above all other forms of advertising. Also, 70% of them trust other consumers' opinion posted online. These numbers alone are gold and speak volumes about the power of this (sometimes disregarded) marketing channel.
But why makes referral marketing that special?
1. It comes with the persuasion factor already included!
Think about that: when was the last time you went to a new restaurant because your friend couldn't stop talking about how good the food was when he went there? Or what online program (course or mastermind) have you bought after seeing the amazing results another small business owner had after signing up and implementing what he/she learned? If you are like me, I bet there were a few!
So, basically, referral marketing works that well because people trust the opinions of other people they respect and love, like their friends, family or other people they admire.
2. The laser targeting aspect of referral marketing!
If you tried (or want to try) Facebook ads, you know that if you don't get your target audience right, your entire ads budget will go to a waste! It's like throwing spaghetti on a wall with your eyes closed and just pray that some of them will stick!
But with referral marketing, all the targeting is magically and perfectly done for you. Many of your clients will recommend you are amazing products and services to those friends and family members (and social media followers) that WANT it and NEED it the most. So you see? Your targeting can't get any better than this (and without any efforts on your part whatsoever!).
3. The reach of referral marketing today can be crazy high.
I remember that several years ago (ok, many years ago!), when I was a little girl, my father would not hire any handyman to do work around the house unless it was somebody highly recommended by a friend. So every time he needed one, he picked up the phone and called at least 10 friends before getting a referral.
But today, if I need to urgently buy a laptop or if I want to try a new gym or if I want to hire a trusted virtual assistant, all I have to do is to post my message on social media (to my friends or in the groups I am part of). I will have a reply in the next 10 minutes or so.
With a simple Facebook post or the Instagram selfie, everybody can reach hundreds of (trusted) people in just seconds. This is also valid in the opposite way: a very good testimonial about your brand or products/services, posted on social media, will reach hundreds (even thousands) of potential clients in minutes.
Ok, so we covered why referral marketing is so effective and why you should use it to grow your small business fast with zero impact on your (small) budget.
Now let's see exactly HOW you can take advantage of this massive opportunity. Because all the theory is useless unless it comes with a plan to implement it.
But first, let's get clear on a fact: your business will not benefit if your only referral sources are only your close friends and family, right? There are also other sources of information that are trusted by the average consumer today and that can also bring you more sales that you can handle (nice picture, right?).
And these sources are:
customers' opinion/reviews posted online and
influential bloggers in your niche.
Then, please note that you, as a small business owner, have a huge advantage over any big company out there: you are much closer to your customer and you can deliver your personal attention to each of them and thus make them feel special for being your clients. And this is one of the most effective ways to benefit from the word of mouth marketing.
With that huge advantage in mind, here are the best ways to use referral marketing to your advantage:
1. Focus on one thing: having a very good product or service.
If your product is not doing a good job at solving your clients' needs, not only you will not gain any advantage from word of mouth, but you are going to even turn it against you. Because if a good testimonial can reach people in minutes, a bad one will only need a fraction of a second! Bad news always travels the fastest.
2. Make it personal.
Get to know your clients, remember their names and purchasing habits, start a conversation with them and know more about their status and their desires, greet them like you would greet an old dear friend – all this will make them feel welcome and special. And this type of feelings always leads people to share it with everyone they know.
3. Exceed their expectations.
If you want to really achieve stellar business results fulfilling your clients' needs is not enough anymore. The market is full of small businesses just like yours that also do the same thing. So go the extra mile. Get creative, is anything you can add (even a little something) that would make their day extra special / make their life a little easier just because they bought something from you?
4. Have a process in place to manage clients concerns and unhappy clients.
This will give you two major things: you will always improve your products and services and you will also avoid bad testimonials that can do a lot of damage.
5. Proactively ask for testimonials and referrals.
Don't make the mistake to wait for all the good testimonials to magically come to you out of the blue sky. People are busy and they have other things on their minds so even if they were very happy with their purchasing experience from you, they won't think to send you their testimonial unless you ask. So don't be afraid of asking. If you did a good job and they are happy clients, they will be willing to help you.
Also, if in any conversation (online, text messages, on Facebook groups etc) somebody is telling you something positive about your brand/business/product make sure you record that. Print screen, take photos, save links, do whatever it is required to do. In this way, you'll never run out of (fresh) testimonials when you need them.
6. Make it easy for people to spread the word (bonus points of you can also make it fun!).
You can start by simply asking questions that make it easy for them to fill in a nice testimonial (like "What feature of the product have you enjoyed the most and why?").  Then you can always go further:
send an email campaign about your business in which you encourage your past clients to forward your message to their friends
if you have a blog for your small business make sure that all your posts are easily shareable
incentivize your clients to refer your services by giving them something back in return (like a nice discount on their next order, a gift card, an e-book or something else you know they would like)
7.Use all the testimonials effectively.
Now that you have all those great and compelling testimonials, use them! Feature them strategically on your website (your Home page, your About page, any sales page / opt-in page) and also share them on social media. Remember: 64% of consumers make an online research before deciding to buy, so that is a very good reason to get persuasive in every way you can.
8. Stand out from the crowd and be visible to your clients.
We all know that people love to buy from the best, the experts in their field. It gives them confidence and it makes them feel good about themselves. And this is exactly how you would want your clients to feel like after buying from you!
Also, no matter what type of business you have, providing valuable information and advice to your audience (actual and future clients) by writing a few effectively placed articles is the fastest (and easiest) way to become known as an expert in your field.
So make it your goal to write at least 5 well-written articles at have them published on good quality websites that you know are valuable for your audience.
To make this very easy for you, I have put together all the steps to take to have this done in less that 2 hours. Download your FREE strategy cheat sheet right here (only available to the readers of ducttapemarketing.com):
http://passioncreativitybusiness.com/welcome-readers-ducttapemarketing-com-2/
If you follow the advice I gave you in this article, if you take action, I guarantee you that pretty soon you'll get messages saying "I am reaching out because I have heard so amazing words about you and your product and I would very much like to buy it also. Where should I send my money to?". And that, my friend, will be a perfect moment and then you'll just know that you really made your small business work for the long term.
If you liked this post, check out our Small Business Guide to Referrals.
---
About the Author
Olivia Angelescu is a launch & growth strategist for BUSY (or just Impatient) small business owners who want results FAST! No more waiting for months and months to build your freedom business! Why not do it now? Olivia is working with her clients by both 1-on-1 coaching and online training. You can find her at www.passioncreativitybusiness.com and on her Facebook page