I've written about this topic many times, but it just never get's old! (Check out the referral marketing archive on Duct Tape Marketing) The fact is, although I've been writing about the idea of referral generation for years, it always remains relevant, no matter what marketing trends and technologies come and go.
Getting referrals can often seem like a daunting task for marketers, but it doesn't have to be. I've put together a list of recommendations you can use to teach your clients how to build referrals (not to mention teach yourself a thing or two).
Teach referral generation
It's imperative that you teach people the best way to refer you and that you teach your clients how to build referrals (hint: showing them this blog post may be a good place to start). You need to make it easy for people to refer you. If there is any ambiguity, your chances of losing a referral drop significantly.
Let your customers know exactly what your marketing action steps will be if they refer a lead to you. In some cases, your lead sources will be motivated by rewards, but mostly they want to know you appreciate their efforts.
Build a team of champions
I've found that the greatest source of lead generation is a happy customer. A happy customer is much easier to turn into a referral champion than an unhappy one.
As your champions refer your business, be sure to do something that makes them feel special, such as a referral appreciation event, or sending a referral source a gift card to their favorite coffee shop. When it comes to showing your champions you care, a little bit can go a long way.
Look for moments of truth
Any time you get a review, testimonial, or compliment, get a referral out of it. Keep in mind that once you've set the referral expectation, you still have to deliver the goods and delight the customer.
Make sure you build and document your process for actually collecting these leads.
Create a review funnel
As mentioned earlier, it's important that you make it as easy as possible for customers to refer your business. Consider using a tool, such as Grade.us, that makes it simple for customers to write reviews for 3rd party sites, like Yelp (see Grade.Us example below). A review funnel takes the guesswork out of giving a referral and just naturally takes your customer to a place where giving a referral is simply just the next step in the process.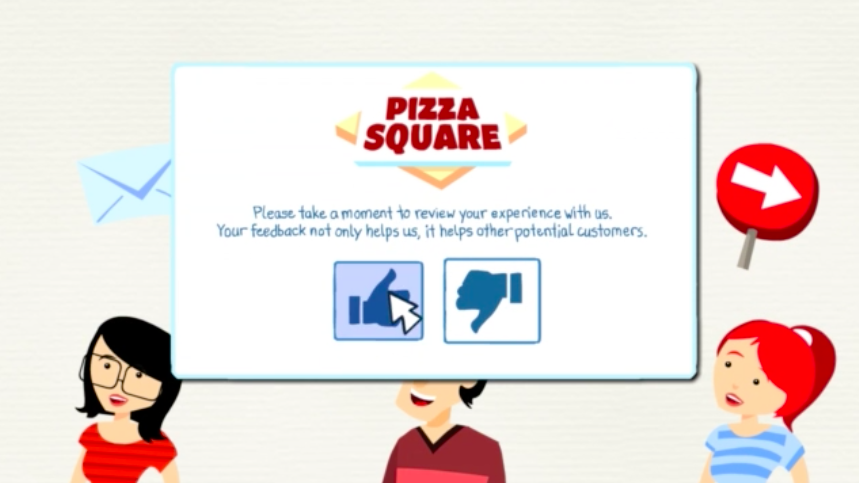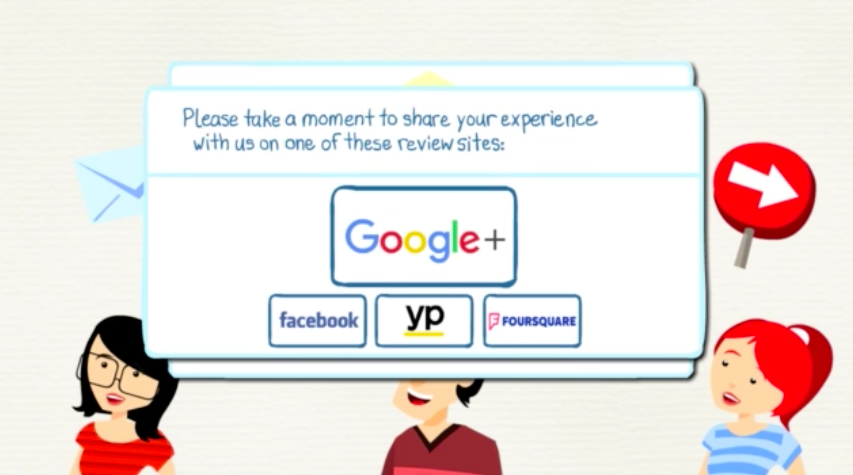 Stay top of mind
Once you have a happy customer, it doesn't stop there. It's important to stay top of mind with your customers and delight them. Finding ways to do more business or get more referrals from your existing customers is a smart way to build a business.
To make sure you don't ignore your customers, which unfortunately happens more often than not, consider creating a calendar of contacts and finding a way to make certain that your customers, referral sources, and hot prospects never go more than a month without some form of contact.
Stay top of mind by sending emails with referral incentives, holding referral-based contests for people – the sky's the limit. Be creative with how you want to engage your contacts to get those referrals.
Additionally, it's amazing how far a simple phone call can go. If you haven't spoken to a valuable contact for over a month, call them to check in and see how they're doing. A personal touch like that can go a long way and can help to bring in referrals organically.
Use content for referrals
Great content not only helps people find you and buy from you, it's also a great tool when it comes to establishing strategic referral relationships. Everyone needs content, so if you can be the partner that brings content to the relationship building table, you win!
When it comes to content, I like using the following five methods to get a referral relationship going.
Invited content – Reach out to potential strategic partners and offer them exposure on your blog. This is a great way to get referred and introduced to a strategic partner's community.
Co-branded content – If you've created a "must have" piece of content in your own lead generation efforts, take it to potential and existing partners and offer to let them send it to their community and cobrand it with their contact details. It's a win-win!
Sponsored content – One of the most powerful ways to get referrals is to get asked to present your expertise to a room full of your strategic partner's best clients.
Curated content – Select a big topic and bring in partners who are willing to introduce their networks to a day-long event. Fill the event with partners that will equate to a group referral.
Incented content – Something as simple as a photo or video contest rewarding the person who gets the most votes is an effective way to create some buzz while getting some great referrals.
Have you started implementing a referral program at your business? What are your favorite tactics to use to bring in referrals?
Many of the ideas in this post receive even more coverage in my Wall St Journal best-seller – The Referral Engine.
If you liked this post, check out our Small Business Guide to Referrals.